BREAKING NEWS BRIEF
Woman who crashed her car in a freezing river is saved by a FedEx driver
Brandon Alt is being hailed a hero after he jumped into freezing water to save a woman who crashed her car. Alt said he was just getting started on his delivery route through Truckee, California, when the vehicle in front of him veered off the road. The car crashed into the freezing river below.
According to police, the driver of the car was distracted by her phone. Alt commented that as he was following her, she was weaving in and out of the lane. She almost hit two vehicles in the opposite lane. The driver told police that she was attempting to call a family member to sing "Happy Birthday." By the time she looked up, she was heading into the river.
Alt pulled his SUV over on the side of the road, threw his hazard lights on, slid down the embankment, and trudged through the icy water to help the woman stuck in her submerging vehicle. He said he couldn't get the driver's door open, so he told her to climb into the back seat. The depth of the water was about four or five feet. Once Alt had the door open, he said water flooded the car instantly.
He helped the woman out of the car and to the embankment, where he could call 911. Once help arrived, Alt gave police his information and then went back to his delivery route — wet clothes and all.
---
More Breaking News
Tracking mask mandates across the country
Man wanted for slaying his wife, and three others is captured by the police
House approves relief package, the bill being sent back to Biden
A sports gambler faces possible prison for threats to kill Rays players
---
TECH TRENDS ARE BIG – BUT THIS IS GOING TO BE THE BIGGEST OF THEM ALL
He revolutionized online payment processing with PayPal….
He is revolutionizing space exploration with SpaceX and the auto industry with Tesla.
And now Elon Musk is getting ready to unveil his next big project.
S.A.V. will change everything…. and make a lot of people rich.
MORNING MARKET UPDATE
This is your market update for the morning
This morning looked bright for stocks, as futures tied to each of the major benchmarks pointed to opening gains. The Dow Jones Industrial Average was slated to increase 0.3% while S&P 500 futures rose 0.7%.
The Nasdaq 100 futures were up 1.7%, indicating a potential rotation back to tech shares.
Also, the 10-year Treasury yield slid again, which was a boon for investor sentiment.
"The faster-than-expected acceleration of U.S. economic growth appears to be lifting inflation and longer-term interest rates," said Gary Schlossberg of Wells Fargo Investment Institute. "The pace of these increases have been a recent concern to investors, but a recovery in interest rates and inflation is a typical occurrence early in a [recovery] – faster this time, in our opinion, because of the unusually strong economic growth rebound."
What else are investors paying attention to today?
---
More Market Updates
More retail investors are feeling inspired to jump into the stock market as the GameStop frenzy continues
Is now a good time to buy shares of the world's leading e-commerce and cloud computing company?
---
A HEALTHIER YOU
10 of the most nutrient-dense foods to add to your diet
If you're trying to improve your health by adding more nutrients to your diet, look no further than 10 nutrient-dense foods that can help you achieve your goal.
One of those foods is baby spinach. Eating just one cup of raw spinach or half of a cup of cooked spinach each day has been proven to preserve your thinking and memory skills as you age. This is because spinach is packed with nutrients like vitamin K, folate, beta carotene, and lutein that help improve cognitive function.
Another food that is packed with nutrients and is good for you is oats. Packed with fiber and antioxidants, oats are a great choice for helping you eat healthy while lowering your risk for heart disease and stroke. What other foods made the list and need to be added to your diet? 
---
More Headlines For A Healthier You
These foods can help you beat anxiety and depression
Eating healthy and still gaining weight? This might be why
---
PRODUCTIVITY HACKS
These are the most helpful hacks for working from home
While working from home certainly has its benefits, it can also be challenging. This is especially true for people new to the idea of turning their home into their office.
Thankfully, there are a few productivity hacks you can implement to make telecommuting a little easier.
The most important step in making a work-from-home situation less stressful is setting aside a dedicated workspace. Sure, the dining table could work, but having a room or corner that's only used for your work is best. That way, you're less likely to face distractions or interruptions.
One of the pitfalls that many people who are new to working from home fall into is failing to establish a proper schedule and routine. You have specific work hours when you're at the office. The same should apply when you're working from home. It will help you get more done and draw a fine line between work time and personal time.
Finally, remember these three words: backup, backup, backup! Since you don't have the luxury of popping up over your cubicle and asking for help from an office mate, you need to have a contingency plan for nearly everything. Have a backup computer. Always have a second webcam if video conferences are part of your work. Save copies of everything on both hard drives and the cloud. That way, you're covered if/when the worst case happens.
Working from the comfort of your home can actually be intimidating for people used to the daily grind of a professional office, but these hacks can help you boost your productivity, reduce stress, and improve the quality of your work with little effort on your part!
---
More Productivity Hacks
The best way to optimize your workspace at home
How you can perfect your work-from-home morning routine
---
LEARNING FROM THE PAST
Believe it or not, today was the beginning of yet another pandemic (that killed a lot more people)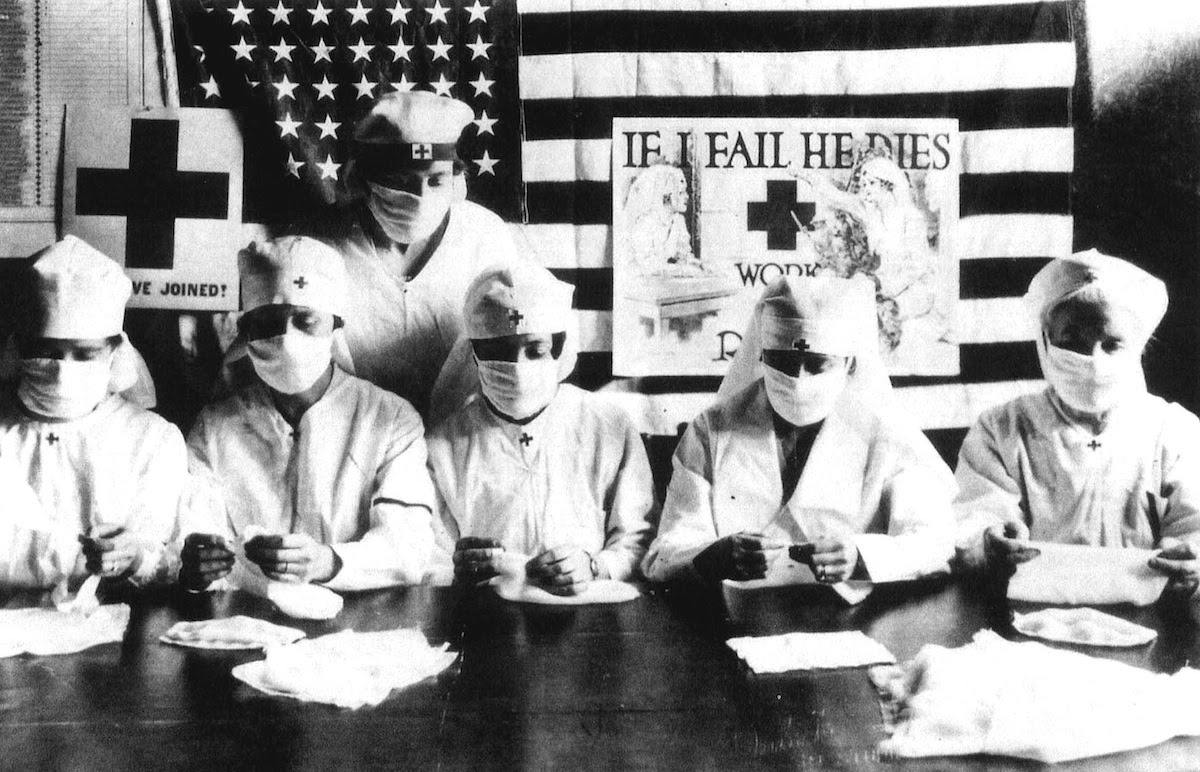 We all know first hand how a pandemic can rock the world in crazy ways. After all, it was just a little over a year ago today that the coronavirus led to lockdowns all across the nation in the world. But this isn't the first time that America (or the rest of the world) has dealt with a worldwide pandemic.
It was on this day in 1918 that Private Albert Gitchell – a mess cook from Fort Riley, Kansas – became the first documented case of the deadly Spanish Flu.
This first official case would soon be followed by hundreds of millions of cases that led to an estimated 50-100 million deaths across the planet. So, how did the world respond when this health crisis hit?
More Learning From The Past
On this day in 1513, a Medici became the Pope
This day in 1708 was the last time a British monarch vetoed legislation
On this day in 1855, a famous gang leader was buried in Brooklyn with 155 carriages and 6,000 mourners
Stay Informed,
Rex Jackson
P.S. Know someone who'd love the Brief Updates? Be sure to send them to this link so they can get signed up: BriefUpdates.com
What did you think?
---