BREAKING NEWS BRIEF
All adults will be eligible for the vaccine by May 1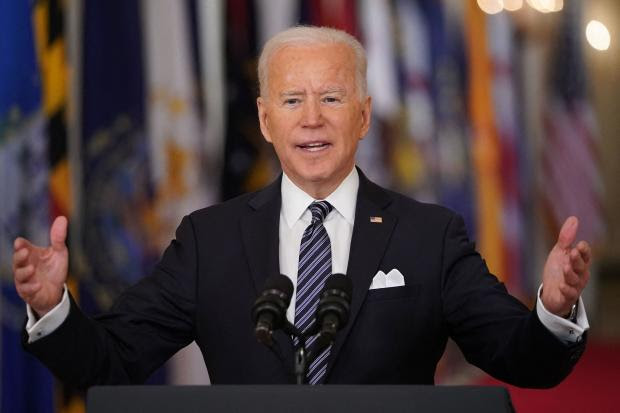 In his first primetime speech, President Joe Biden shared the next phase of combatting the virus. Biden will direct all states, tribes, and territories to ensure that everyone is eligible for vaccination by May 1. The new directive comes as part of a broader strategy that includes increasing the number of vaccine sites.
Biden's speech came on the anniversary of when lockdowns began. During his speech, Biden shared his hope that the nation will be back at some level of normalcy by July 4. As more significant numbers of people are fully vaccinated, the Centers for Disease Control will update its guidance on activities like travel and attending church worship services.

The president warned that scientists have noted conditions could grow worse because of new variants of the virus. Americans need to stay vigilant, the president said, or restrictions may have to be imposed again.
---
More Breaking News
More European nations pause the use of this vaccine
A former teacher is convicted of pouring nitrogen on kids
A barefoot porch pirate lost her top and is captured on video
Colorado braces for a major winter storm
---
THESE 11 COMPANIES ARE ABOUT TO LAUNCH IN THE STRATOSPHERE
---
Recommended Link:
If you're looking for the trends that could make you a millionaire next year, I've got the perfect place to start: Electric vehicles.

They were already scorching hot in 2021 – look what happened in just one month of action:
British EV bus maker CIIC climbed 119%…
Three-wheel EV pioneer SOLO soared 159%…
And EV charging-station operator BLNK surged 211%.
Not bad for one November!
But these results are nothing compared to what's on the horizon…
I'm already looking ahead towards the next generation of EV stocks – 11 companies that could soon launch into the stratosphere…
---
MORNING MARKET UPDATE
This is your market update for the morning
The push-pull dynamic between the 10-year Treasury yield and equities continued Friday morning, as futures tied to the major benchmarks fell while the 10-year yield rocketed up eight basis points last night.
The Dow Jones Industrial Average saw futures drop 0.1%, while futures tied to the S&P 500 dipped 0.6%. The morning's biggest loser was the Nasdaq-100, with futures falling 1.7%.
The slip follows a great day Thursday, with stocks logging record highs.
"While we expect conditions to remain volatile, the most recent developments on three of the main market drivers –stimulus, pandemic news, and inflation data — point to further equity upside," said Mark Haefele of UBS Global Wealth Management. "The stimulus is substantially larger than had been expected earlier in the year. Its provisions are also likely to be highly supportive for consumption and growth. The windfall comes on top of existing signs of pent-up demand from US consumers."
What should you keep an eye on in the market this morning?
---
More Market Updates
Here are the most common credit card screws you can make
What is the best, most under-appreciated benefit of 'early retirement'?
---
FITNESS FRIDAY
The 10 benefits of jumping rope that your body needs
If you're trying to improve your health by adding more nutrients to your diet, look no further than 10 nutrient-dense foods that can help you achieve your goal.
One of those foods is baby spinach. Eating just one cup of raw spinach or half of a cup of cooked spinach each day has been proven to preserve your thinking and memory skills as you age. This is because spinach is packed with nutrients like vitamin K, folate, beta carotene, and lutein that help improve cognitive function.
Another food that is packed with nutrients and is good for you is oats. Packed with fiber and antioxidants, oats are a great choice for helping you eat healthy while lowering your risk for heart disease and stroke. What other foods made the list and need to be added to your diet? 
---
More Headlines For A Healthier You
Is 10,000 steps a day really enough to stay healthy?
Are free weights better than weight machines?
---
PRODUCTIVITY HACKS
These tools will help you save time while you're writing
When you're faced with a big writing project and a short deadline, productivity is key. While the internet has everything you need to knock the project out of the park, it also serves as a home for major distractions. How can you utilize the benefits of the internet while avoiding getting derailed?
There are some essential tools you can use on the internet to tackle any writing project. And they're basically distraction-free.
Before you can tackle a writing project, you need to organize your thoughts. That's where programs like Wridea come in handy. It offers an idea management service with tons of brainstorming tools.
If you don't have time to proofread your work, let the professionals do it. The editorial team at Allcorrect will proofread your drafts until they're perfect.
Dictation has come a long way as a useful tool for writers. Now, technology makes it available to anyone. Apps like Dragon Dictation automatically transform your speech into words, saving you a ton of time. It's a great way to quickly get your ideas to paper.
Give these tools a try if you really want to improve your writing skills and boost your overall productivity. It's worth taking the time to try them out.
---
More Productivity Hacks
This is how to make your online research way more effective
Here are some simple strategies for improving your reading comprehension
---
PLANNING FOR THE FUTURE
Want to be happy now? Live like you're already retired
How much of your daily life would you say is spent on things that truly give you joy? Now, let's flip the coin and let me ask you another question – how much of your time are you wasting on things that don't give you joy?
If you can't answer this question, it's time to start working on figuring it out.
No one is promised any tomorrows, so instead of pushing off your happiness and pleasure until you retire, what would life be like if you started acting like you were already tired and scheduled your time accordingly?
"Essentially, if you want to lead a more fulfilling life, then do the things retirees are told to do to make the most of their golden years. As Oliver encourages: Give yourself permission to put forth your best effort toward the things that provide happiness and meaning while skating through the less important stuff in life."
And while that sounds great in theory, let's take a look how it works in actual practice.
---
More Planning For The Future
How many of the following 20 retirement terms have you already mastered?
If you're one of the 40% of women leaving the workforce, here's what that might do to your retirement
Don't want to run out of money during retirement? Follow these five rules
Stay Informed,
Rex Jackson
P.S. Know someone who'd love the Brief Updates? Be sure to send them to this link so they can get signed up: BriefUpdates.com
What did you think?
---