BREAKING NEWS BRIEF
---
A suspect involved in the Boulder massacre is in custody
Ten people, including a veteran police officer, were killed during a mass shooting at a grocery store in Boulder, Colorado. The officer was identified as Eric Talley, 51, who served on the force since 2010. He was the first officer at King Soopers, the crime scene after the shooting occurred at about 2:30 p.m. His actions were called heroic. Identities of the other nine victims were not disclosed as police were still notifying their family members.

The suspect, who was not identified, is receiving medical treatment. Officers had escorted a shirtless man with blood running down his leg out of the store in handcuffs, but authorities would not say if he was the suspect. Authorities could also be seen leading at least one other person out of the store and pressing him against the building's exterior wall before walking away with him. He did not appear to be handcuffed. Witnesses are sharing their experiences during the massacre with the press and social media.
---
More Breaking News
Sandra Oh gives an impassioned speech at a protest
A nine-year-old boy is sent to the hospital following a shark attack in Miami Beach
IRS is deploying another round of direct payments
Salvadoran surfer is killed by lightning while training for the Olympics
---
HAS THE SECRET TO MAKING A FORTUNE FINALLY BEEN UNVEILED?
---
Recommended Link:
FINALLY… Elon Musk's Secretive Supplier Revealed?
Forget Tesla. It's the company that's been supplying this key piece of tech to Elon Musk that will shock everyone.

This is all part of a $30 trillion megatrend.

And I'm not talking about blockchain, artificial intelligence, 5G, robotics, or the Internet of Things.

This trend is BIGGER than all of those things COMBINED!

And if Elon Musk mentions this company in a tweet, there's no telling how high shares could go.

Click here and get all the details before it's too late.
---
MONDAY MORNING MARKETS
This is your market update for the day
Exactly one year ago today, the market hit rock bottom, and would begin turning things around. Since then, the Dow Jones Industrial Average and the S&P 500 have gained over 75% apiece, while the Nasdaq Composite soared over 90%.
"Things have come full circle now, as stocks have staged a furious rally, with new highs happening across the globe as the economy recovers at a record pace," said Ryan Detrick of LPL financial. "This bull market is off to an amazing start, but it is important to remember it is still young. While a pick-up in volatility would be normal [at] this stage of a strong bull market, we think suitable investors may want to consider buying the dip. Vaccine distribution, fiscal and monetary stimulus, and a robust economic recovery all have our confidence high."
This morning, stock futures were down, with the Dow slated for a 136-point opening loss. Futures tied to the S&P 500 and the Nasdaq 100 fell 0.4% and 0.2%, respectively.
What else should you know about the market this morning?
---
More Market Updates
This stock has soared 41% so far this year, but is it worth your money?
Here are three disruptive stocks that will actually double your stimulus money
---
AROUND THE GLOBE
Watch: Volcano that was dormant for 6,000 years erupts
Video Source: NBC News
A volcano that had been dormant for the last 6,000 years erupted days ago just 20 miles from Iceland's capital, Reykjavik.
Iceland is known for its frequent seismic and volcanic activity, with 30 currently active volcanoes. The country sits along two tectonic plates separated by an underwater mountain-range that flows with molten rock.
Researchers expect to see more eruptions in the coming decades, possibly for up to the next 200 years, the New York Times reports.
A small earthquake happened just hours before the volcano erupted.

I won't lie, even though it was considered a smaller-scale eruption, it's fascinating all the same. You can watch footage from the eruption here.
---
More World News
This country is the happiest in the world — how does the US rank?
ISIS-linked militants are beheading children — where is the outcry?
These strange pandemic regulations from around the world will leave you scratching your head
---
A HEALTHIER YOU
Are these simple mistakes aging you too fast?
Could some simple mistakes you're making be contributing to how fast you age? According to health experts, the answer is a resounding yes.
There are apparently 20 daily habits that can make you age faster. One of those habits is surprisingly drinking through a straw. The repetitive facial movements that are required for being able to drink through a straw are the culprit for aging you. Regularly pursing your lips can cause your facial skin to lose elasticity more quickly, which can lead to premature lines and wrinkles around your mouth. Even drinking from a bottle can have a similar effect, so it's best to drink from a cup or glass.
Another daily habit that can age you is keeping your temperature at home very warm. By cranking up the heat, you are drying out the air in your home. If you do this consistently, it can lead to dry and itchy skin, which is also bad for skin elasticity. Even just a 30 percent difference in relative humidity can affect skin properties and lead to significant wrinkle increases. So, what's the optimal room temperature for your skin's health and what other daily habits could be aging you quickly?
---
More Health Headlines
This is one of the best breakfast meals for brain health
Use this one trick to maximize the health benefits of green tea
---
PLANNING FOR THE FUTURE
The dreaded budget, made easy: tips to help you get that wallet looking sharp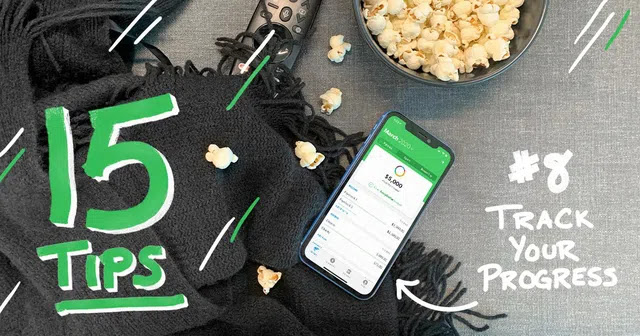 If you're behind on budgeting, the best time to start is now. It might seem overwhelming, or even limiting, to plan your spending down to tiny details—but at the end of the day, budgeting can only enhance your financial freedom.
Step one is to plan your spending (and saving!) down to the last dollar before the month even starts. Called zero-budgeting, this technique gives you less room for accidental spending, and helps you keep track of every last cent.

Another notion to consider: adjusting your budget every month. After all, some months warrant different expenses; you probably won't be spending as much on gifts outside the holiday season, for example. Likewise, some months you'll want to set money aside while you have it handy. Here's more tips to help you budget like a boss, ASAP.
---
More Planning For The Future
Could you hit life's curveballs? Tips on building an emergency fund, $100 at a time
5 tips to find the best budgeting app for your needs and expectations
Stay Informed, 
Rex Jackson
P.S. Know someone who'd love the Brief Updates? Be sure to send them to this link so they can get signed up: BriefUpdates.com
What did you think?
---